Basically, the challenge is to fully decorate a 4-foot tree (or bigger) for $20 or less (not counting the tree or the lights). For more details about her challenge click the button below.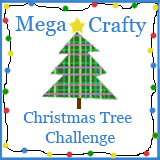 I'm not too sure I'll be able to do it for under $20, but it sure will be fun trying!! Of course I'm going to post everything I make here on my blog!! There will be tutorials available for all the decorations I show, whether I write them myself or link you to them!!
My final tree reveal will be on December 17th and Meg is revealing her tree on the 15th. I can't wait to see how they both turn out, along with the other trees people decorate for
this challenge
!!
I've already started making super inexpensive ornaments and have ideas for sooo many others!! Here are the ornaments I've made in the past 24 hours...
The two paper flowers were made from Stephanie's tutorial at Under the Table and Dreaming. Her tutorial,
Book Page Flower Ornament
, is super easy and there are so many ways to use this technique!! I'll probably make other ornaments and use these flowers in part of the design. Here are close-ups of the two I made:
The red Christmas tree was roughly-based on Tricia's
Tabletop Ribbon Trees tutorial
over at
Uncommon
. Tomorrow I'll post a tutorial on how to make a Ribbon Tree Ornament like mine for about 75 cents or less!!
I combined
Quill Cottage
's
Vintage Paper Snowflake Ornament
and
funEZcrafts
'
Lace Flower Ornament
to come with the snowflake ornament shown below. There will be a tutorial for my Paper & Lace Snowflake Ornament on Wednesday. With the white on a dark background my camera didn't take a very good picture, but here's a close-up:
Thanks for reading!! Until next time...